TECNO UnlockCAMission Challenge
If you didn't win
TECNOEgyptTour
, Here is another opportunity for you to tour beautiful destinations in Europe this ember season; TECNO Trip To Europe.
Over the next few weeks, some lucky people will be selected to tour Europe and they will also win cash prizes up to 2 million Naira.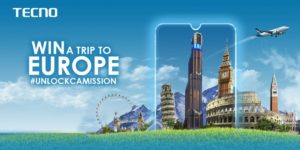 So what will you do to be eligible for these prizes?
Unlock a new CAM*Era- A photography based contest will be starting 27th August, 2019. All you have to do is join the TECNO UnlockCAMission challenge and stand a chance to be among the 24 people that will go on a 3-day photography camping contest.
The TECNO UnlockCAMission requires that you participate in three missions.
In the first mission, you are required to take a creative and outstanding photographs of the thinnest objects around you using your smartphone.
The second mission requires taking an wide-angle picture of any iconic structure with your phone.
The third mission requires taking a creative picture at night, in a dark or low light environment with your phone.
The first mission is the one currently ongoing and you can join the contest right here. All entries must be accompanied with the hashtag UnlockCAMission.
8 lucky people will be selected from each mission and qualify for an all-expense-paid trip to an undisclosed location in Nigeria. Right in the camp, they will be given photography tasks and so the fun would begin. Whoever is able to complete his or her tasks will win the next Camon device and cash prizes.
At the end of the 3-day camping, 3 best participants will be selected to go on an adventure to Europe.
The UnlockCAMission challenge will run until 30th of September 2019. Join the challenge and stand a chance to have a memorable and fantastic Ember season this year.
For more information, visit TECNOSpot for Terms and Conditions and follow TECNOMobileNigeria on Facebook, @TECNOMobileNg on Twitter and Instagram.