DonJazzy, Marvin record boss has remained single for several years despite the subtle pressure from all around. Stuck on his obsession with popular singer Rihanna, he seemed uninterested in any other woman. Funny as it sounded, he was keen on Rihanna or no one else. Could it be that his mind has been changed? Let us find out.
Recently, a picture of him cupping the waist of a beautiful woman who has been identified as Lisa Yaro, a Nigerian artist. Research shows she (Lisa) is an outstanding song writer and actress born in Nigeria but takes residence in Los Angeles.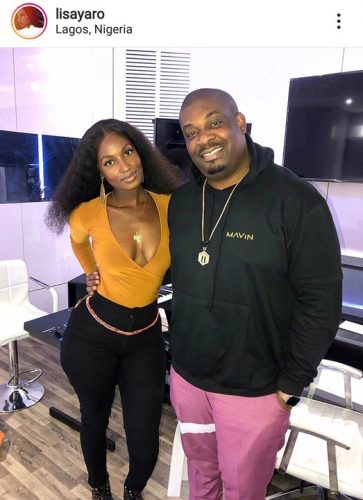 On her Instagram timeline rests a picture of herself and Don Jazzy clutching at her waist. She captioned the post
"Great convo & vibe the other day w/ @donjazzy"
Her comment section buzzed with questions and such statements as "You two look good together"
Checking Don Jazzys Instagram timeline, it would seem he made no post of her whatsoever.
So far, neither Don Jazzy nor Lisa Yaro have come out to confirm or deny a relationship. They have simply left the audience to their whims and their assumptions.
Could this mean that the Rihanna obsession phase is over? Has Don Jazzy finally decided to put himself out there? Or is this just sign of a music partnership? Is he signing her into Marvin? Or is this just a picture?
Let us know what you think in the comment section down below.